OK, so the two-dress trend is definitely one of the latest and greatest. I love the idea in concept. I mean, giant wedding dresses are definitely not always conducive to cutting a rug all night long. And sometimes the same dress doesn't look right in a church and then in a sleek reception setting.
The post idea came ffter reading an article in the
Argus Times
(it came across the wedding news ticker), in the article
Mark Ingram
was quoted saying he saw the trend emerge about 2 years ago and has continued on.
Here's one celeb that made the dramatic change:
Christina Aguilera
Dress 1
elegant, form fitting with a heck of a train by Christian LaCroix
Dress 2
Sexy number, definitely a party dress made for dancing and showing the Xtina personality. This one was designed by her stylist Simone Harouche.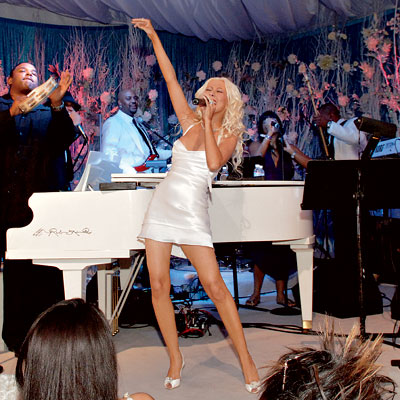 Designers are now catering to this trend as well. Go to
Priscilla of Boston's
website and there is a whole section of "Reception" dresses!
You could go from one of their over the top
Platinum
collections like this
Or maybe you have a garden wedding and you are looking for something romantic like this from the
Vineyard
collection?
But then you want to let loose from the tulle or drop the romance and get sexy so you throw on one of these numbers and you are ready to partay
(all shown from POB)
Conceptually I LOVE this idea but for a couple of reasons I cannot fathom doing this.
1.
My dress was expensive.
Maybe not for everyone but for me, its definitely the most expensive thing I have ever worn. How could only wear it for the 1 hour ceremony plus some pics? Seems ridiculous (unless you are the above mentioned Xtina and the wedding dress is just another expensive thing you will don). I mean I justify buying $200 jeans by tellinng myself I will wear them again and again and again. How could I purchase something for thousands of dollars to wear for an hour?
2.
I love my dress.
I really love it. I want to wear it for as long as possible.
Besides, I didn't go too over the top and I moved around a lot when I tried it on to make sure it was danceable.
However, when I started planning my day, I did want to add some sort of costume change in there. The ceremony is during the day at a traditional Catholic church by the beach. The reception is in the evening in a formal setting,
The Woodlands
mansion. Wouldn't it be the perfect wedding for a dress change? I think so, but again, not really in the cards.
So here's my plan-
For the church I am going to do pearl studs, pearl strand necklace, veil. Not exactly like this - well not really at all but you get the idea, classic bride wearing classic pearls.
(pic from BridalfashonMall)
Then, once I am ready to get to the evening reception and want to sport a more nighttime look, my plan is to get a pair of "wow" chandelier earrings and go drop both the necklace and the veil. I'll also have in a hair "spray" that I got from
here
.
What's your thoughts on the dress change phenom? Do you plan to do anything to differentiate the ceremony and reception? NOT that you HAVE to, you spend months figuring out what to wear to one!